iPECS-CM Enterprise System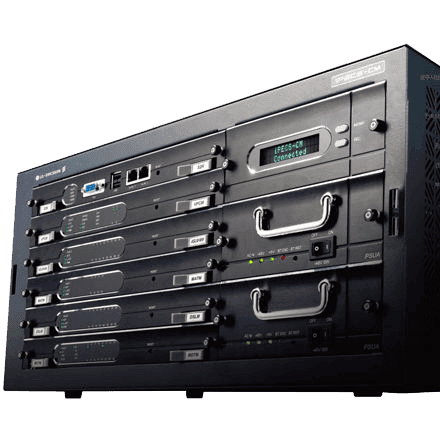 iPECS-CM is the next generation IP-PBX that provides, in addition to IP telephony, various flexible high quality multimedia services, and mobility designed for medium and large sized enterprises. iPECS-CM call servers are available in three configurations. CM-S2K employs an embedded server to support up to 2000 ports.
CM-S30K, CM-S10K and CM-S4K employ commercial servers to support up to 30,000/10,000/4,000 ports, respectively. The 19″ rack 1U server and modular Media gateway design permit the iPECS-CM to service the medium to large enterprise delivering the latest in communications technology in a reliable platform.
iPECS-CM media gateways provide simple interface to VoIP (Voice over Internet Protocol) technology, access to various standards based telephony networks and applications such as UC, Phontage, SNMP, Billing, Web Management, IVR conference call, and wireless functions such as Wi-Fi, FMC (Fixed Mobile Communication), etc.
iPECS-CM supports an array of terminals from advanced Ericsson-LG proprietary VoIP phones and SIP terminals to basic analogue single line devices as well as, legacy digital terminals, and, video phones.
Features
Simple network architecture
Flexible and simple network design due to pure IP based modular architecture – Standard-based network and SIP make easy applying of various service and solutions
Investments protecting and cost saving
Various phone support from high-end to existing analogue phone: Video phone, IP/SIP phone, WiFi Phone, PDA, Softphone , Attendant Console, Digital phone, Analogue phone – Communication cost reduction via internal VoIP call and operational cost by easy central management
Maximizing reliability and scalability
Support maximum 30,000 users and 400,000 busy-hour call completion – Unlimited scalability by multiple servers networking – Local Survivability with a variety sets of local call server – Multiple redundancy of Call Server/LAN/Control/power unit – Specialized large enterprise features; Directory Number, Digit Conversion, Mobile Extension, various Intelligent Routing
Enriching customers experience
Use mixed trunks; Digital Trunk(E1/T1/PRI/SS7), Analog Trunk(E&M, RD, LD, CO) as well as SIP trunk – Easy management via web-based remote/central management – A select of various gateways and servers for proper sizing – Support all the Ericsson-LG's applications we well as interfacing 3rd party solution